The Sales Funnel is a marketing term to describe the overall sales process, from initial prospecting to the completion of a sale, the model can be quite detailed but hers is a summarised version covering the key stages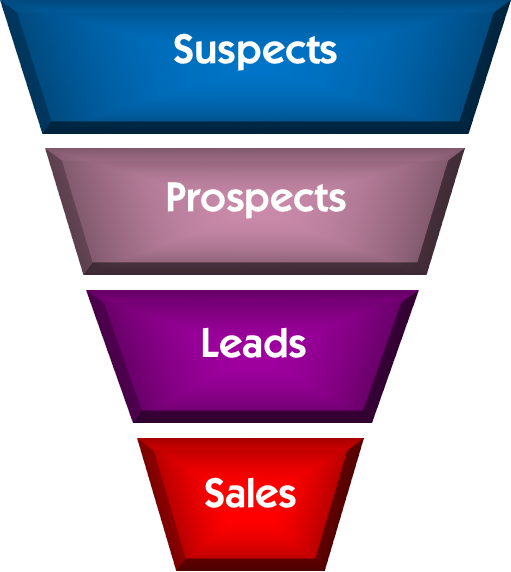 Suspect—is someone that you have on your database, they may have made an enquiry or you have acquired their details. You have limited information about them and whether or not they could be a future customer
Prospect—Here we have moved onto the next stage, they or you have established that they are looking for a solution in your area of operation, they are more likely to have been proactive in finding out more about you, doing research or possibly contacting you directly
Qualified Leads—Once you have made contact, and confirmed that you can provide a solution meeting both the specification and commercial considerations, this is a real lead, now the battle to win the sale begins!
Sales—The successful conversion of a lead to a sale and hopefully to a long and mutually beneficial relationship!
The exact terminology varies by company, this doesn't matter what does though is consistency. Your CRM (Customer Relationship Manager) system needs configuring to suit your terms. Systems normally allow you to generate reports illustrating status and converting success.
At each stage down the funnel, the numbers being worked on reduces.
Generating 1 sale from 30 Suspects is considered more efficient than 1 requiring 100. Typical ratios will vary by industry and marketplace, B2B ratios are normally lower than in B2C.
At this stage, it is worth noting that so called "lead generation," whatever marketing tools are used, mainly generates suspects and possibly some prospects, rarely qualified leads!
Successful marketing focussed companies aim to keep these conversion ratios as low as practical, generating the most qualified leads from the fewest possible number of suspects, this improves sales team efficiency and reduces wasted marketing expenditure.
Targeted marketing is a key tool used to achieve this, the more relevant your offering is to the market you promote to, the more likely they will buy from you. This emphasises the importance of really establishing who your potential customers are, the more accurate the profiling is, the more successful your campaign will be, saving marketing pounds!
Knowledge Base – Marketing Know How: