When you're busy, stacked out with work and struggling to cope, advertising for work may seem a silly thing to do. Think again, although you may be busy now unless you keep your sales funnel full, it may not last!
Marketing is more than lead generation, its' purpose is to:
Raise and maintain awareness
Demonstrate expertise
Introduce new products
Build confidence
Fuel demand
Keep in touch
It is wise to regularly review and adjust your marketing activity to suit the needs of your sales funnel, your workload and the season.
Don't make the mistake of waiting until work drops off before taking action, sometimes with unfortunate ramifications.
Choosing the right marketing tool is a challenge, we're spoilt for choice. A good digital marketing agency will take the time to understand your business requirements and advise you accordingly.
Choosing the right tool
Different tools are best at achieving different things.
If you need a plumber in an emergency, search is an ideal tool to use. If though you want to keep in touch or promote a new service, pro-active tools such as emailing and social media are more appropriate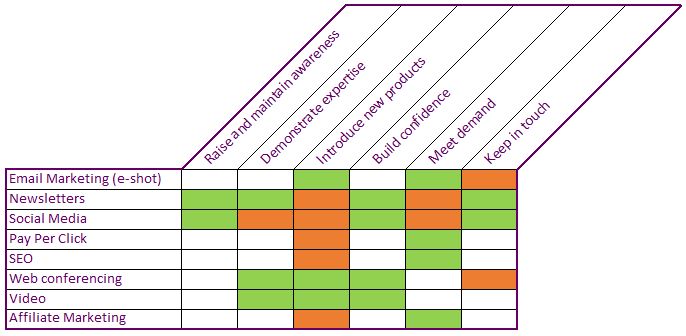 Newsletters—send every 4-6 weeks to your own and to external agency databases. Keep the design consistent, be concise, informative and avoid a hard sell, you want to encourage regular readership.
E-Shots—need to look attractive, offers grab attention. Work with an agency that maintains relevant databases and can advise you on implementation.
Social Media-is powerful and good for niche areas. Activity must be maintained making it time consuming.
Pay Per Click—applies to classic Google type searches and to Social Media. It is easy to spend a fortune, so work with a skilled agency, they should save you money.
Search Engine Optimisation (SEO) – being on page one is great, but there isn't space for everyone. If you are in a competitive market, consider other options.
Web-Conferencing—good for technology markets, take time to prepare and try to use confident public speakers
Video—also good for technology, to show off your work. The cost of professional videos has fallen so worth considering
Affiliate Marketing—there are various schemes, to advertise on other relevant websites.
Proctor and Gamble
Proctor and Gamble is one of the world's biggest and most respected advertisers. Established in 1837, they pioneered the use of marketing setting up one of the first market research departments in the 1920's linking it to product development.
Famously during the Second World War, they continued to advertise products that were not available due to shortages. The purpose being to maintain awareness and demand. After the war shoppers rushed in to buy what they had been missing.

It's wise to find and work with a broadly skilled digital marketing agency like Web-Clubs. We will take the time to find out what you need and then take time to come up with plan to move your business forward, and despite the "digital" in our company's description, if we believe traditional tools have their place, we will work with you on those too.
Knowledge Base – Generating Traffic: