Website Portfolio.
First impression is critical to retaining interest. Our personal approach combined with our marketing skills deliver an attractive and effective online shop window for your business. We offer more than website design.
---
Monopteros Fine Art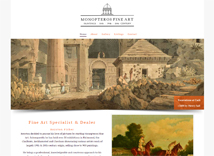 The aim of the new website for Monopteros Fine Art website is to emulate the experience of visiting an art gallery. Galleries with historic paintings are typically housed in traditional buildings, so a design that reflects this has been used with the use of traditional typography. The paintings have been grouped by artist allowing you to browse through as you could in a real gallery with the option (but by clicking not moving nearer) to take a closer look!
Built in WordPress
Thunderbird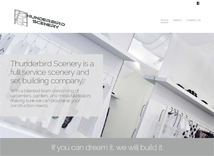 Thunderbird Scenery do more than their name suggests, shop fitting, furniture and events are also part of their portfolio as is almost anything else you could dream up! The purpose of their website is to demonstrate their range of achievements in a simple scroll through gallery format. The colour scheme and the websites design were chosen to represent the modern dynamic nature of the business.
Built in WordPress
The Lion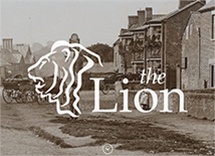 The Lion in Waddesdon is an historic inn with a traditional bar, well-appointed accommodation and with a modern restaurant, its situation makes it an ideal base for visiting the famous Waddesdon Manor and many other local attractions. The new website needs to welcome a broad customer base demonstrating the attractiveness and warmth of this popular venue as well as being informative. Stunning imagery has been used throughout the website to catch attention, the home page showing old and current images slowly swapping is a particularly nice feature.
Built in WordPress
Fiducia Interiors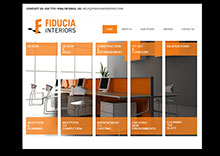 Not surprisingly a company involved in design, needs a website that demonstrates their skills. As well as the innovative eye catching dynamic home page, the very important case studies are presented very attractively. The website is easily navigated through a combination of traditional menus and links from the various images representing the business.
Built in Joomla
Sell Your House Quick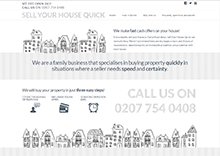 Here, our designers had to strike a careful balance. The new website for "Sell Your House Quick" needed to be informative and communicative, but it also needed to attract attention and to be welcoming. The lack of colour and the use of a larger type size achieves the first requirements, but the overall feel of the website was lightened to achieve the second requirement by the "cartoon" house images throughout. We couldn't resist the use of any colour, so the bottom image of the home page was slightly animated with the occasional coloured window appearing.
Built in WordPress
Powder Compaction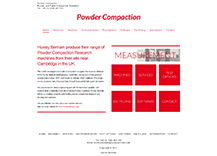 A large website for a specialist market, visitors are likely to be professionals looking for more detailed information on this leading range of Tablet Compaction Simulation machines. As to be expected on such a website, there is a wealth of background technical information. Ease of navigation is an essential requirement for such a website, this has been achieved through the combined use of primary and side menus.
Built in WordPress
Ironing Angel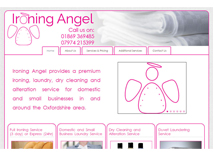 A further example of a concise informative website for a small business. The services of the business are clearly defined, backed up by suitable images. The clean style of the website suits the profile of the business. The background of the family business are given on the "About Us" page, building confidence. Contact detail are clear of every page.
Bespoke Build
Herts Bifold Doors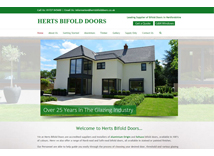 The aim here is to make an immediate impact! This is achieved by using high quality photography prominently on this "visual" website, distractions are kept to a minimum on the opening home page, so that the "images do the talking!" Aspirational settings have been used by the photographer to attract potential customers wanting to make their own home improvements. Additional website pages are used to provide company background, a wealth of product information and customer reviews to build confidence in the company.
Built in WordPress
Triangle Surgical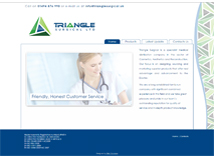 Triangle Surgical is a specialist medical distribution company, they required a new Business to Business website. It needed to position Triangle in the market and to present product information in a structured manner for easy navigation. To achieve this, the products have been listed visually with only a single click required for more information. As products do change regularly, the website has been produced using WordPress so that it can be easily maintained. The design called for clean lines, so colour usage is minimal with a strong use of white as it is associated with cleanliness and health.
Bespoke Build
Aquila Corporate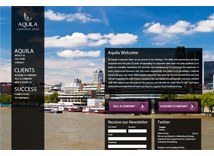 An example of a modern business website, the large background image provides "home page" interest with the central block of reversed type providing a brief introduction to the company, the image remains partly visible as visitors navigate from page to page providing design consistency. The modern design and choice of imagery, positions Aquila a dynamic corporate organisation.
Bespoke Build
The Laundry Company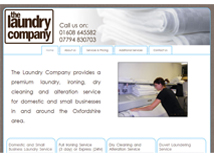 Concise "Informative" websites like this are widely used to promote small businesses. In just a few web pages, they need to define the Who's, What's and Where's of a business. Here, the simple but effective design combined with a predominance of white subliminally links to cleanliness and purity, factors potential customers will expect. The Company name and contact information is prominent on all pages. The personal touch is a powerful selling point of family businesses is a personal message from the owner.
Bespoke Build
Great Missenden Council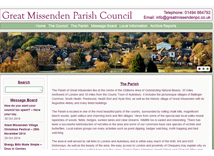 Lying at the centre of the Chilterns Area of Outstanding Natural Beauty, the pretty village of Great Missenden's website needed to reflect its surroundings. Images of the villages surroundings are subtly combined into the websites layout. A key requirement for this website was for it to be easily edited, so that news of local events, reports and news can be updated without the need of the website provider.
Bespoke Build